"Books are, let's face it, better than everything else." – Nick Hornby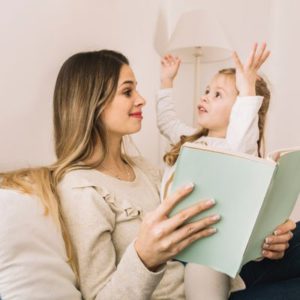 Books, stories and words should be enjoyed and cherished every single day.
That's what sparks a long-lasting, unconditional love towards reading.
"There are many little ways to enlarge your child's world. Love of books is the best of all." – Jacqueline Kennedy Onassis
So what are the benefits of reading for pleasure? I'm now going to share with you exactly why every child should love reading:
Mental health benefits –
1 in 6 adults in the UK are affected by a common mental health disorder and non-readers are 28% more likely to report feelings of depression (Billington, J, 2015). But the National Literacy Trust found that children who're most engaged with literacy are 'three times more likely to have higher levels of mental wellbeing than children who are the least engaged'. This can be because books allow children to escape, feel empathy and gain a sense of belonging. For many millions of children who feel like the 'outsider', the books can give refuge, community and a whole world of magic in which to escape.
Before we continue, why not check out our KS2 resources for Ernesto Cisneros' Efren Divided? Available on Reading Hub.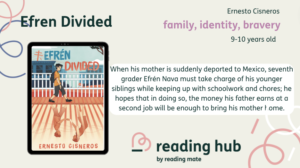 Improved vocabulary and overall cognitive development –
being exposed to reading and stories from a young age, allows children to hear rich and unfamiliar vocabulary. It's also a fantastic opportunity for them to get lost in their own imagination and develop their creativity. Reading for pleasure is more important for children's cognitive development than their parents' level of education and is a more powerful factor in life achievement than socio-economic background (Sullivan and Brown, 2013). When your child is choosing to read regularly at age 10 and more than once a week at age 16 they'll gain higher results than those who read less regularly (OECD, 2010).
Develop communication skills –
a child at any age can find it hard to explore and express their true emotions. But for toddlers and young children, books can be a very interactive experience and help them understand what they're feeling. The discovery of books and stories is really beneficial to speech and language development as it can quite literally give them the words to describe their emotions. As we all know a problem shared is a problem halved, so if your child doesn't have the right words to express their concerns, they may bottle them up. Sharing stories together is a great way to nurture those feelings and help them to see books as a source of help too.
Books transform lives –
At the root of every child's love of reading is their genuine enjoyment in the activity. It's not enough for our children to do the reading that's been set for them. They need to feel an urge to read, a want to read, a desire to read. Once your child feels this way, they'll carry that emotion with them into adulthood where they'll seek out learning, acquire knowledge and grow to be the best possible version of themselves. Reading for pleasure can create positive reading habits and increase literacy skills (Hilhorst, S, et al. 2018) and incomes are higher in countries where there are adults with high literacy skills (OECD 2013). Ultimately, a love of reading will lead to a love of life overall.
"Books can open windows onto new worlds, widen their horizons or even just make them laugh themselves silly! Reading for pleasure can give children the key they need to unlock their dreams."
– Christopher Edge

I suppose as an English teacher I'm biased but for me the ability to read is like stabilisers on a bike. Sure, you can ride on your own and get to where you need to be. But a love of reading is taking the stabilisers off. It's freedom and getting to where you want to be.
 "Once you learn to read, you will be forever free"
– Frederick Douglass