Children in EYFS (aged 3-5) have a wide variation in reading and inference abilities in this age group (which is normal). As a result, I've selected books with rich illustrations, repetitive language, and lots of use of rhyme. This should help children to predict, mimic and remember the words, and encourage them to join in with parents and teachers.
Looking for lesson ideas and inspiration? Here are 5 classroom activities for Franklin Goes to School by Paulette Bourgeois and Brenda Clark.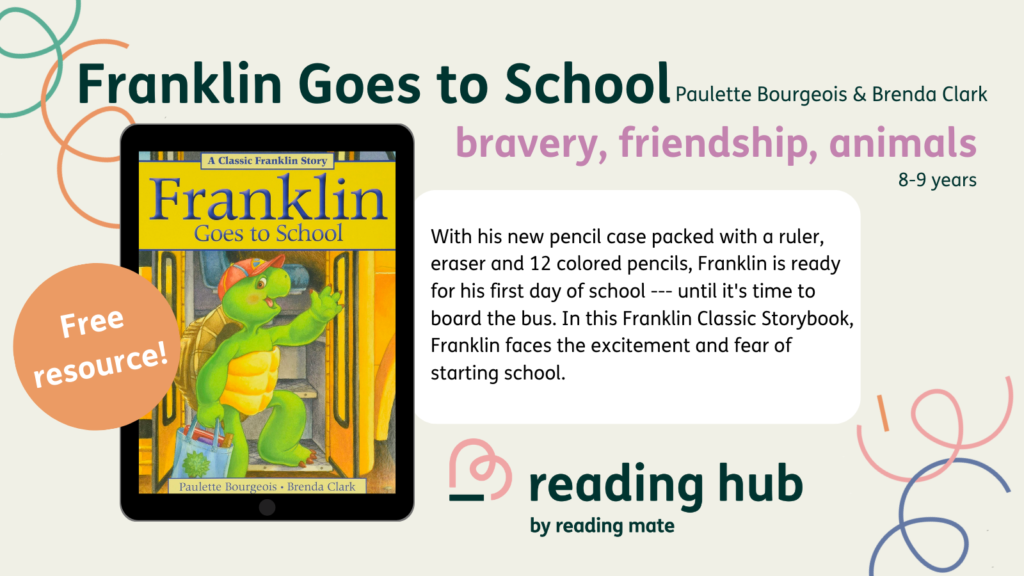 This is by no means an exclusive list but it's a good starter pack.
The Lion Inside by Rachel Bright – excellent resource to accompany teaching phonics and comprehension.
All Join In by Quintin Blake – lovely read aloud and inspiration for song/poetry writing.
Peace at Last by Jill Murphy – lots of use of capitalisation which can be source of discussion, descriptive writing and entertaining read.
Dinosaurs Love Underpants by Claire Freedman & Ben Cort – great resource for punctuation and adjectives.
Grumpy Frog by Ed Vere – funny story about compromising, saying sorry and making friends.
Owl Babies by Martin Waddell – lovely class read that all children can relate to and peek their curiosity about behaviours of owls and nocturnal animals.
Zog by Julia Donaldson – class read that disrupts stereotypes of fairy tales and gender roles.
Oi Frog! By Kes Gray & Jim Field – great for phonics teaching.
Spinderella by Julia Donaldson – good resource to accompany learning numbers.
The Squirrels Who Squabbled by Rachel Bright – lots of opportunity to discuss alliteration and friendship.
My Grandpa by Marta Altes – lovely class read that's moving and memorable. It's about the very special relationship between an elderly grandfather and his adoring grandson.
Red Knit Cap Girl by Naoko Stoop – great to spark imagination and creativity.
The Three Robbers by Tomi Ungerer – simple illustrations with a powerful message that will delight children of all ages.
What the Ladybird Heard by Julia Donaldson – great for rhymes and phonics teaching.
Oh The Places You'll Go by Dr Seuss – lovely introduction to poetry along with an inspiring story and message.
This is Not My Hat by Jon Klassen – humorous class read which is great to get students to anticipate next page and spark conversations.
I Want My Potty by Tony Ross – great for early independent readers.
Once Upon an Alphabet by Oliver Jeffers – helpful for teaching the alphabet in a fun and entertaining way.
The Jolly Postman by Janet & Allan Ahlberg – classic and loveable class read.
Meg and Mog by Helen Nicoll & Jan Pienkowski – simple story with a heart-warming message for early readers.
Brown Bear, Brown Bear, What Do You See? By Bill Martin & Eric Carle – great to encourage student participation.
Room on the Broom by Julia Donaldson – another classic with brilliant introduction to phonics and rhyme.
Avocado Baby by John Burnigham – humorous text to discuss exaggeration and even healthy diets.
The Tiger Who Came To Tea by Judith Kerr – wonderful classic that's loved by all. Also, great for creative writing inspiration.
The Very Hungry Caterpillar by Eric Carle – helpful resource for colours and counting.
The Snowman by Raymond Briggs – much-loved classic to discuss friendship and compromise.
There Was An Old Lady Who Swallowed a Fly by Rose Bonne – lovely text for participation and whole class reading.
Lost and Found by Oliver Jeffers – introduction to figurative language and animal habitats.
Whatever Next! By Jill Murphy – always a class favourite and can be used to discuss onomatopoeic phrases and punctuation for effect.
To find out more about how to support individual cohorts and ages, check out our other blogs!