Are our learners facing an educational crisis? Many Primary School learners are not reading with fluency by the time they reach Secondary School. The Sunday Times reported that 'some "some 11-year-olds [are] only able to understand books suitable for six-year-olds".
Whilst it's been widely reported that the pandemic was the route of these issues, I would be inclined to believe that this 'crisis' has been around a lot longer than we would like to believe. Research from The National Literacy Trust would suggest this is in fact true as they estimate 7.1 million adults in England have 'very poor literacy skills'. This could suggest that lockdowns and school closures have just made things worse (to see my thoughts on this as a teacher, check out my blog on 'The dark side of school closures'.
Looking for lesson ideas and resources to help in the classroom? Check out this series of activities for The Star Dogs by Roddy Doyle.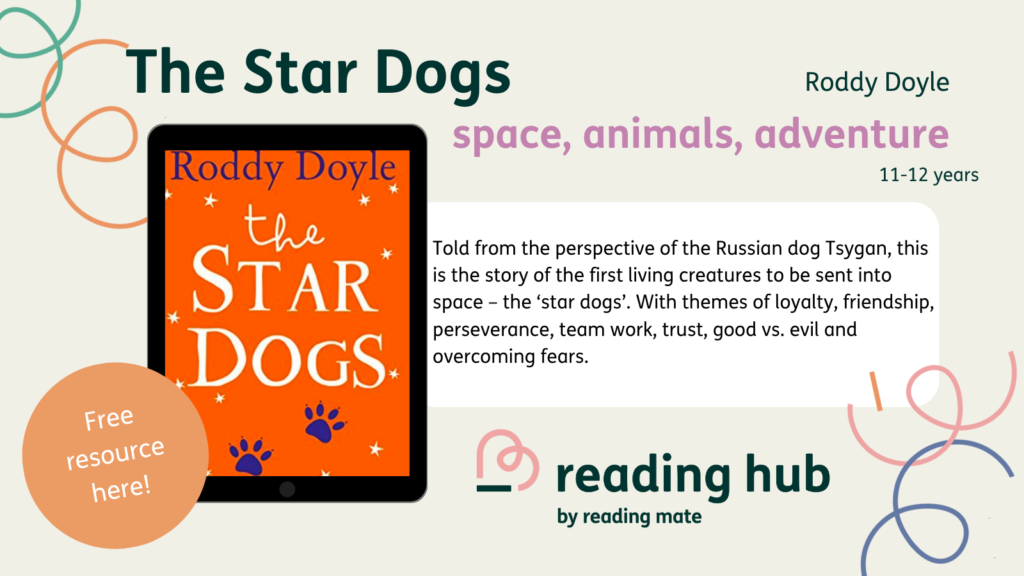 25% of learners are leaving Primary School not reading at expected standard – DofE, Phonics screening check and key stage 1 assessments in England, 2019
Whilst the pandemic saw a slight uptick in the reading behaviours of learners. This effect was not long-lasting. In fact, a study conducted by Oxford University Press found that 1 in 4 children are now behind in reading. This trend is even more devastating for our learners eligible for free school meals (FSM). Their learning loss is estimated to be greater and their recovery much slower.
"A child who is 'six months behind' will look very different at 5 compared with 9." – Dr Jessie Ricketts, Director of the Language and Reading Acquisition
Sharing reading ages with my learners was always very problematic. Not only because it would lead to an inevitable knock to their confidence. It would also lead to their parents becoming increasingly worried.
The best way to measure reading attainment and progress is subject to much debate as it's extremely complex. But we can't hide away from the fact that learners that present as falling behind with reading, rarely catch up.
"Children who are weak readers will struggle as much in maths and science at GCSE as they do in English and in arts subjects." – GL Assessment
The 'Read All About It' study by GL Assessment found that:
A quarter of 15-year-olds have a reading age of 12 or below
One in five pupils aged 15 have a reading age of 11 or below
1 in 10 pupils have a reading age of 9 and below
20% of 11-year-olds have a reading age of 15 or above
These figures obviously vary based on cohorts and location of the school. But it's important to note that these figures are usually much worse in more deprived schools.
Read more, read better – the Matthew Effect
Learning to read is extremely complex and multi-faceted. It involves a synergy of word reading, formal literacy instruction and comprehension. Whilst this is extremely condensed and simplified, these basic skills are extremely hard to acquire if your learner has additional needs.
Navigating the wide range of needs in the 'average' classroom is one of the biggest challenges facing teachers. Making multiple copies on coloured paper, enlarging images, providing word banks and instructing TAs took up a huge amount of my PPA time. All of this was worth it if it meant my learners could access the reading alongside their peers.
But what can we do to support those learners in KS1 now to ensure they don't stay behind throughout KS2 and KS3?
We can start by looking at some of the reading schemes that are available and adapting them to meet the needs of our learners. Oxford Reading Tree is a fantastic scheme that has been used in schools for many years. It's perfect for those struggling with reading as it uses repetition and patterning to support early reading development.
But we need to be careful that we don't just assume that all reading schemes are suitable for all learners. We also need to ensure that we're using a range of strategies to support those struggling with reading.
One size does not fit all when it comes to reading development. We need to be mindful of this when planning our interventions. What works for one learner, may not work for another and it's important to be flexible in our approach.
If you're struggling to support a learner with reading, there are a number of fantastic organisations that can offer advice and guidance. The National Literacy Trust is a great place to start and they have a range of resources that can be accessed for free.
What do you think? Are we in the midst of a reading crisis? Or is it something that's been around for a lot longer than we would like to believe? Let me know your thoughts in the comments below.