Books are friends hoping to be met, worlds ready to be explored and mysteries waiting to be solved. It's these attributes that bring people together. The very best stories transcend generations, fuse cultures, and align (or sometimes divide) opinions.
Every time you open the pages of a book, you're sharing a story. And I would argue that all authors intend for their stories to be shared again, and again. Why wouldn't they?
Looking for lesson ideas and resources to help in the classroom? Check out this series of activities for Prince Not-So Charming: Once Upon A Prank by Roy L Hinuss.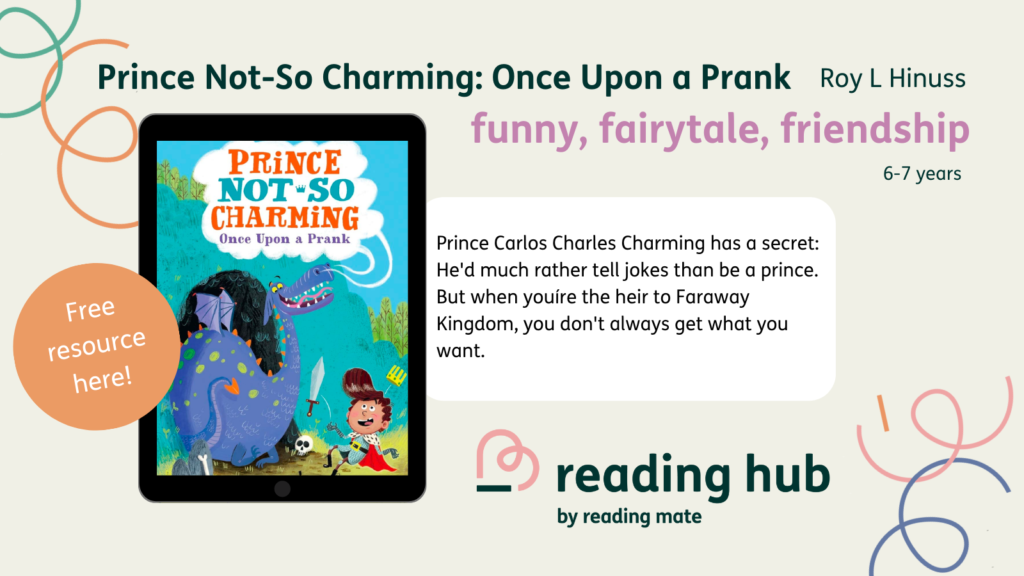 What're the benefits of reading in class altogether?
I'm a firm believer that all books should be shared in one form or another. This can be by passing on books you've read to friends and relatives, or reading your preciously preserved books from childhood with your own children.
A story shared is an opportunity to continue the memory and expand your own perceptions by hearing the opinions of another.
The benefits of reading in class are profound. And they're not only limited to the children hearing the stories. Adults and children both benefit from sharing a story and here's some of the reasons why:
Engage readers with storytelling: listening to an adult read allows children that're less confident readers hear how words and phrases are meant to sound.
Encourages expression and performance with language, especially when it comes to rhyming books. These could involve singing and lots of silly sounds which is excellent for children to see modelled by adults.
It makes reading fun! For many children, reading (unfortunately) is scary and intimidating. But seeing and experiencing the thrill and enjoyment of a story can be a real inspiration to reluctant readers.
Develop emotional literacy and communication skills. Most stories will spark some discussion or conversation during reading or afterwards. And if you're reading a book that perhaps tackles some difficult feelings, this can be a brilliant opportunity for children to explore these in a safe space. They can listen to discussions about how to deal with them. This is really important for children that're shy and reserved because they may not necessarily participate in the discussions, but they'll potentially receive a huge amount of support and reassurance from witnessing them play out.
It's a screen-free zone but it's still social! In this technology-ridden age we're living in, parents are desperate to seek activities that don't revolve around those blue screens. Sharing stories is a great way for children to have fun, be social and maybe even learn something!
Develops children's vocabulary by reading for fluency. Children's books are filled with rich and vibrant words. These can be great discussion points throughout reading but also excellent learning opportunities for students too. Because they hear how the word should be pronounced as well as how to use it.
Opportunities for progression of speech and language skills. This is especially true for picture books aimed at 5 years and younger as much of the speech is song-like and encourages repetition. For example, 'We're Going on a Bear Hunt' naturally has children repeating phrases and joining in throughout. So, children are able to listen and then repeat the words.
Are some books made to be shared?
One series that stands out for me is Harry Potter. I was lucky enough to grow up with these books and remember the anticipation of their release, the tired eyes of my peers as we'd stayed up late into the night reading. We'd revel in the twists and delight in the magic. But the best part was being able to explore the excitement and adventure with each other throughout.
Since those adolescent years, these books have acted as an ice breaker when making new friends and a common ground when having to make small talk. But the highlight has been teaching the Philosopher's Stone to KS3 students.
Watching the students giggle when Dudley gets his comeuppance and sharing their shock at Voldemort's unveiling was a real privilege.
Anyone who's shared a story with a child, be it multiple children or just the one, will understand that warm and content feeling of reaching it's conclusion.
I've always felt if I could bottle that feeling of finding out 'whodunnit' or relishing in the justice that's been served (or not as is the case in Harry Potter), then we'd never have a shortage of teachers again. People would be queueing up to be able to share that wonderful moment with a room filled with captive and hungry minds.
Truly, the best days I had with my students are those when it's never gone to plan. Before we knew it, we wiled away 25 minutes talking about an unexpected or unwelcome revelation in a book, short story, or poem.
So, there's no perfect book for sharing. In fact, all stories were written to be shared. That's literally why they exist in the first place. Because one day, that author woke up, had an idea, and wanted to share it with the world.
Sure, they're stories that're performative like many of Roald Dahl's work for example, but I feel that every children's book is written to charm and captivate those who're reading it. As a result, we're spoilt for choice when it comes to books to be shared.
If the book has relatable and endearing characters, an interesting plot, and highlights some form of life lesson or moral, you'll have no problem sharing it with a group of children.