Books have the power to transport young readers to magical worlds, inspire imaginations, and teach valuable life lessons. If you're looking for popular books for EYFS pupils, we have carefully selected 12 delightful reads from the diverse collection available with the Reading Hub Learner app. From tales of adventure and self-discovery to stories promoting empathy and determination, these books are sure to ignite a love for reading in young hearts.
Enchanting books for EYFS pupils
"Ada Twist, Scientist" by Andrea Beaty
Join Ada Twist as she embarks on scientific adventures and explores the world around her. This empowering story celebrates curiosity, problem-solving, and the joy of discovery.
"Horton Hatches the Egg" by Dr. Seuss
In this beloved Dr. Seuss classic, Horton the elephant demonstrates the importance of responsibility and loyalty as he faithfully protects an egg left in his care.
"She Persisted: 13 American Women Who Changed the World" by Chelsea Clinton
Introduce young readers to inspiring women who have made a significant impact throughout history. This book encourages perseverance, resilience, and the pursuit of dreams.
"Chicken Big" by Keith Graves
In this hilarious tale, readers will meet Chicken Big, a little chick who surprises his farm friends with his unexpected growth. This story promotes acceptance and celebrates individuality.
"Go, Dog. Go!" by P.D. Eastman
Join a cast of colorful dogs as they engage in exciting activities, from driving cars to throwing parties. This engaging book introduces early concepts such as colors, opposites, and basic vocabulary.
"Are You My Mother?" by P.D. Eastman
Embark on a heartwarming adventure with a baby bird searching for its mother. This charming tale explores themes of identity, love, and the importance of family.
"The Curious Kid's Science Book" by Asia Citro
Encourage young scientists to explore the wonders of the world around them with this interactive book. Filled with fun experiments and hands-on activities, it sparks curiosity and promotes a love for science.
"The Owl Who Was Afraid of the Dark" by Jill Tomlinson
Follow the journey of Plop, a young owl afraid of the dark, as he discovers the beauty and excitement that come with nighttime. This story encourages children to confront their fears and embrace new experiences.
"17 Things I'm Not Allowed to Do" by Jenny Offill
Laugh along with a mischievous young girl as she lists the things she's not allowed to do. This humorous book emphasizes the importance of making good choices and understanding boundaries.
"Making a Difference" by Cheri J. Meiners
This book explores the concept of making a positive impact in the world through small acts of kindness and compassion. It teaches young readers the value of empathy, respect, and helping others. View resources to support with the reading of this book here.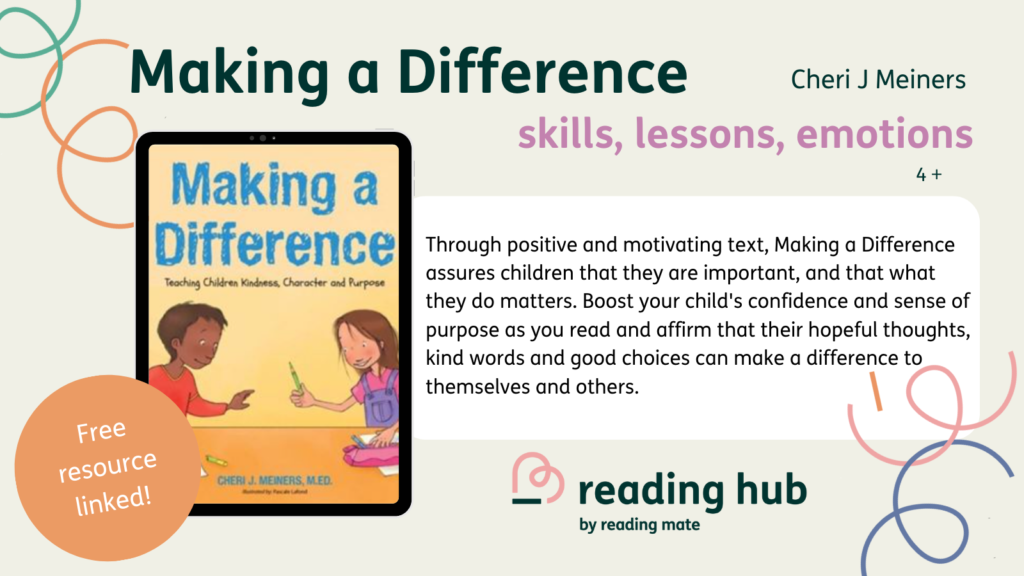 "The Night Before Kindergarten" by Natasha Wing
Prepare young readers for their first day of kindergarten with this charming and reassuring story. It captures the excitement and anticipation while easing any nervousness about this important milestone.
"The Saggy Baggy Elephant" by Kathryn and Byron Jackson
Meet Sooki, a lovable but self-conscious elephant, as he learns the importance of self-acceptance and celebrates his unique qualities. This book promotes self-esteem and embracing one's individuality.
Happy reading!
These 12 popular books offer a treasure trove of adventures, life lessons, and opportunities for young readers to explore and grow. From embracing curiosity and perseverance to promoting empathy and self-acceptance, these books for EYFS pupils are sure to captivate.
All of these eBooks are available in the Reading Hub digital library!