Before having the privilege of interviewing Ben, my knowledge of palaeontology went as far as 'that's what Ross did in Friends'. When I mentioned this to Ben, he was incredibly polite (and probably a little sympathetic) and said that wasn't the first time someone had said that to him (phew).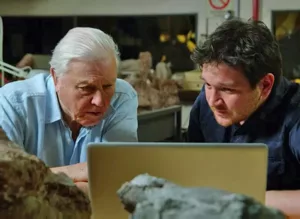 I'm pleased to say the interview ended with me desperate to know more about the demise of dinosaurs and excited about the impact these extinctions have had on our lives today.
Who is Ben Garrod?
Ben is an evolutionary biologist and expert primatologist. He's spent over a decade working on great ape conservation projects, has featured on several BBC programs including The Day the Dinosaurs Died, Secrets of Bones and Attenborough and the Giant Dinosaur alongside Sir David Attenborough. To say he knows a thing or two about dinosaurs is an understatement.
During my discussion with Ben, his enthusiasm for this topic radiated from him. He's passionate about making quite a tricky period of history (for adults and kids) accessible and fun. And his new series of books, 'EXTINCT', does exactly that.
What can you expect from 'EXTINCT'?
Throughout this series Ben explores the biggest extinction events ever told from the biggest evolutionary players themselves. Regardless of your age or level of interest, you and your child will enjoy these books. Don't be put off by the long and tricky to pronounce words. Ben's displayed the information down to easy-to-read chunks, broken up with bold headings, engaging diagrams and beautiful illustrations from Gabriel Ugueto.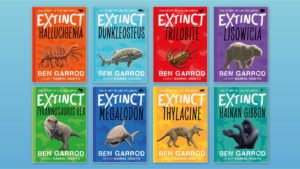 We were lucky enough to get our hands on three from this series including 'Hallucigenia', 'Dunkleosteus' and 'Trilobite'. One of the many things I love about these books is that they're immediately visually stimulating. The hardback, colourful books are shelf staples for any child's bedroom.
With 8 books in the series, they make for a lovely collection for your child to be excited to get their hands on. You'll discover the secrets of these species, where they lived, what they ate and why they were so wonderfully weird.
Most important of all, Ben helpfully explains why these creatures and their extinction are so important to the story of our lives.
These books would make a lovely gift for a curious mind or a complimentary accompaniment to your child's bookshelf. What makes these books truly special is that your child can read them in any order and regardless of how much or how little they choose to read, you can guarantee they'll come running to you afterwards saying 'did you know…..?'
Ben has done a fabulous job of making the inaccessible, accessible and the daunting, exciting. 
As a self-confessed science-avoider, I can genuinely say that I thoroughly enjoyed learning the Trilobite held its stomach in its head, and the Dunkleosteus was a fish that would snap its jaws five times faster than you can blink.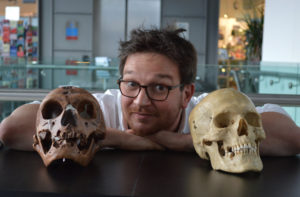 Teaming with fascinating nuggets like these, your child will devour these books and be excited about (let's face it quite a morbid topic) extinction.