It's no secret that We're Going on a Bear Hunt holds a very big and special place in my heart. This book, along with a few others, built the foundations for my own love of reading. As well as this, each book holds an individual memory that's I enjoy reliving every time I share one of these stories with my students.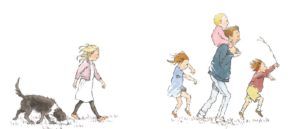 This got me thinking about how the books we share with our children are so much more than a story. They're time capsules filled with laughter, love and sometimes even tears.
For me, many of these stories take me back to my bunkbed in my childhood home. I would sit up and my head would kiss the ceiling as I listened to mum or dad read a story whilst daringly balancing themselves on the ladder. Everything about these moments was brilliant to me as a child. The excitement of the bunkbed, the hilarity of mum and dad facing quite a nasty injury just to read me a story and then the stories themselves.
We knew them inside out and back to front. We probably didn't even need the books and could've recited them from memory. Singing the chorus of repeated versus, gasping at shocking moments and commenting on the illustrations.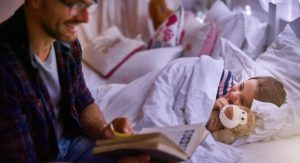 It was like a well-rehearsed play. But we were the audience and the actors. And I loved every, single, moment.
And the best part of all? They aren't going anywhere. They remain a reliable and loyal friend in times of loss. For me, that's been the most impactful thing about the books from my childhood.
What was on my bookshelf?
I had a very eclectic taste as a child and most of the books I read were either favourites of my mum or dad and so ended up being mine too.
Some of these we enjoyed together (especially the picture stories) others separately but then had discussions about them together. Each book captured a different moment from my childhood for very different reasons but all of them are equally special.
The Tiger Who Came to Tea by Judith Kerr
We're Going on a Bear Hunt by Michael Rosen
The Whales' Song by Dyan Sheldon
Anne of Green Gables by L. M. Montgomery
To Kill a Mockingbird by Harper Lee
Matilda by Roald Dahl
Stig of the Dump by Clive King
Goodnight Mr Tom By Michelle Magorian
What did I learn from these books?
This isn't an exclusive list, it's a highlight reel. I learned many things from these books, about life and about myself.
The Tiger Who Came to Tea taught me about manners and We're Going on a Bear Hunt showed me how to be brave. The Whales' Song highlighted the beauty of the world around us can simply be found in the people who've raised us. To Kill a Mockingbird, Stig of the Dump and Goodnight Mr Tom made me realise how important it is to never judge someone on their appearances but also how the world can be incredibly cruel and unjust. Matilda and Anne of Green Gables highlighted the innocence and fun in childhood, and that it's something that shouldn't be taken for granted.
Every book that's passed through my palms has been an individual journey. A brand-new adventure. One that has shaped my world view, enriched my mind, and connected me to a loved on.
Next time you pick up a story to share with your child, remember, you're about to create a memory. That moment in time could be something that influences who they become as adults. So, blumming well enjoy it!
"Reading should not be presented to children as a chore, a duty. It should be offered as a gift." 
– Kate DiCamillo