I had the honour and privilege of interviewing Pippa after reading her newest children's novel 'The Twisted Threads of Polly Freeman' (full review on a previous blog).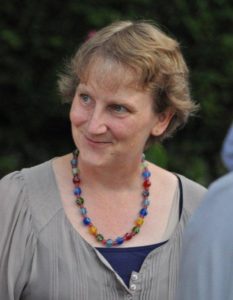 Pippa's talents range from extremely successful children's author to teacher. She completed a degree in History and went on to train as an infant teacher. After working in Heffers Children's Bookshop in Cambridge for 5 years, she moved to Leicester, where she married and began to work as a publisher's reader as well as teach.
It was when her children were little that Pippa began her writing career, and her first book was published in 1994. Since then, she's gone onto write over 100 children's books from the popular 'You Choose' series to inspire young writers to chapter books such as 'Ginny's Egg'.
Pippa is one of those remarkable authors that really has written something for everyone. Have a browse through her collection and I guarantee you and your child will find something you like.
On your website, you say you found reading hard, other than your parents, what influenced your reading journey?
I think I found school, and trying to keep up with friends, rather overwhelming, and I just got into a state where I believed I couldn't read, and froze when the teacher told me to read. Not fun! But I did love playing at stories and listening to stories. And I loved my friend Sarah's weekly 'June And School Friend' comic. 
Do you think your schooling had any impact on your writing?
It has in at least two ways. For one thing, I feel strongly that early reader books must deliver a good story, to make the difficult task of reading properly rewarding. I like writing those little books which will never win prizes but might make children into readers. That's rewarding.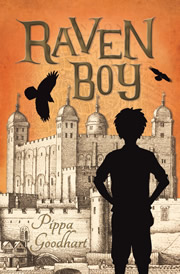 And of course all my friendships and struggles and hopes and triumphs with children and school feed into my story character's varied experiences.

What role did your teachers play in your becoming a writer?
I had one secondary school English teacher who gave me ten out of ten for a story about picking blackberries, and I still cherish that mark half a century later! Maybe he gave me a bit of belief in myself as a writer? My spelling was atrocious, so my work was always full of mistakes. He looked beyond that to what I was saying, and how I was saying it. Thank you, Mr Parr! 
What 3 books do you think should be on every child's bookshelf, and why?
What age of child, I wonder? What character of child? What sort of life are they leading? So many 'it depends' provisos, but three fairly random brilliant books are –
'Oh No, George!' by Chris Haughton. A picture book with the best body language humour as this simple, genius, story explores temptation. Such tension! So funny! Such anguish! And the ending is left for us to decide, empowering children to become story creators.
'The Big Book of Birds' by Yuval Zommer. A big busy picture book of beauty and information, introducing the wonder of the bird world. Because children need books which open up the real world, as well as books which exercise the imagination.
'The Shark Caller', by Zillah Bethell. A middle grade novel set in Papua New Guinea, fast moving, full of interesting people and sharks, …. and what a twist at the end! Because children need to feel the power of stories to make us feel and think and grow beyond our own lives.
With more than 100 books published, are there any that stand out to you?
 The one that people most recognise, and which I see used to shreds again and again, is the original 'You Choose' picture book, now not far off its twentieth anniversary. Nick Sharratt brought in so very very many images into the one book, and children just love discussing and noticing and choosing.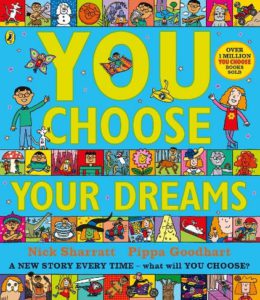 Your 'You Choose' series is a firm favourite of mine. I use it daily with my students as a conversation piece. It's such a fantastic idea. What inspired you to create such a uniquely structured book?
My three daughters loved looking through catalogues, choosing things they wanted but knew they'd never get. That made me think of creating a catalogue of the really big things in life – family, kind of home, job, as well as clothes and pets and food and more – that are fun to choose even when we might not get them. Publishers didn't agree, though. Nine turned it down before Random House, as it then was, took it on. Nick Sharratt and I are now working on the fifth You Choose book, and it's amazing to think of the well over a million copies of the books out in the world now. 
There's a strong historical theme that runs throughout your books, how did you choose the periods of history to write about?
 I did a history degree that focussed on Viking times, but I've only written one little book with a Viking setting. The novels have been sparked by particular things, and I've then done lots of research. 'Raven Boy' grew out of a publisher asking for a small story book set in the Great Fire of London, and that led me to discover a real boy character mentioned in Samuel Pepys' Diary that I wanted to write about. 'Finding Fortune' was set growing in my head by a family ring, passed down, mother to daughter, since my great great Granny Polly was given it by her brother who'd brought it back from the Klondike Gold Rush. 'The Great Sea Dragon Discovery' is another rather personal one in origin because it's set in the village I grew up in, and I wanted to know more about the coprolite mining in the 1860s which revealed interesting fossils. The latest one, 'The Twisted Threads of Polly Freeman' began growing from a visit to the wonderful Quarry Bank Cotton Mill near Manchester, and the Apprentice House you can go into to see where the child apprentices lived.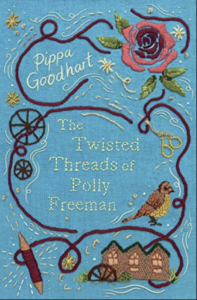 I see you have a PGCE and continue to do a lot of teaching and school visits, do you think that schools play a big part in inspiring young writers and readers?
Absolutely. If children have a teacher who clearly loves books and reading, maybe reading their own choice of book as children have freedom to read their own choice of book for a time each day, that enthusiasm is infectious. Stories read aloud to the class are also wonderful, giving everyone shared adventures and emotions, bonding the class together and giving such an experience of what books are all about.
It's often said that those who read a lot make the best writers. Are you a keen reader? If so, what are you reading currently?
I am now. As a child I struggled with learning to read, and didn't like it. But now I read every day for fun as well as for work. I'm currently reading 'V For Victory' by Lissa Evans, the wonderful follow-on to her 'Old Baggage'.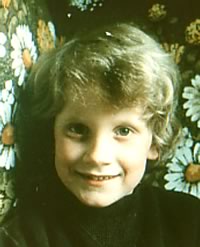 Thank you so much for taking the time to answer these questions. I very much appreciate it.
You're welcome!