If you're looking for images of stunning interior design and a guide to create the phenomenal feng shui, I'm afraid you're in the wrong place. My idea of decorating is a nice throw, some scatter cushions cushions and lighting a candle.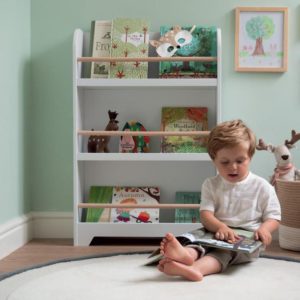 BUT if you're looking for inspiration to fill that beautiful bookshelf, then I can definitely help you out.
What types of books should be on my child's bookshelf?
*disclaimer: this is not an exclusive list, but it is a good place to start if you want to diversify those shelves:
Repetitive stories to join in with – these are excellent to get your child to join in with the story: We're Going on a Bear Hunt by Michael Rosen, Wow! Said the Owl by Tim Hopgood, Oh no, George! By Chris Haughton, Where Bear? By Sophy Henn.
Poetry books – poems are brilliant for early readers and struggling readers. Short form and lots of fun: Poems to Perform by Julia Donaldson, A Great Big Cuddle by Michael Rosen, Life Doesn't Frighten Me by Maya Angelou, A Little Aloud for Children by Various.
Books with rhyme – these are excellent for emerging readers as they can anticipate what's happening. They help with language development as well as comprehension: The Gruffalo by Julia Donaldson, You Can't Take An Elephant on the Bus by Patricia Cleveland-Peck, Green Eggs and Ham by Dr Seuss.
Cumulative stories – stories that build on each other often have excellent morals and messages to discuss you with child: There Was an Old Lady Who Swallowed a Fly by Pam Adams, The Enormous Turnip by Jackie Walter, The Sandcastle that Lola Built by Megan Maynor, By the Light of the Moon by Frann Preston Gannon.
Cultural stories – these can be seasonal like for Christmas, birthdays etc and also to learn about family heritage and the world beyond: The Boy at the Back of the Class by Onjali Q. Raúf, Ruby's Worry by Tom Percival, Pick a Pine Tree by Patricia Toht, The Colour of the Sun by David Almond
Wordless picture books – these allow your child to tell their own version of the story and are great for speech and language development: Another by Christian Robinson, Here I Am by Patti Kim, Footpath Flowers by JonArno Lawson, Return by Aaron Becker.
Chronological books – books with counting, the alphabet, seasons, days of the week are a perfect staple for early readers: An Alphabet of Stories by Oliver Jeffers, The Very Hungry Caterpillar by Erie Carle, Look and Wonder: A Stroll Through the Seasons by Kay Barham.
Good stories that are rich and beautiful – these books give your whole family the opportunity to share a magical tale together: The Little Prince by Antoine De Saint-Exupery, Black Beauty by Anna Sewell, Harry Potter and the Philosopher's Stone by J.K. Rowling, Stig of the Dump by Clive King.
Nursery rhymes, songs and poems – support early literacy and language skills with fun and happy rhymes: Mother Goose's Nursery Rhymes by Axel Scheffler, Treasure of Nursery Rhymes and Poems by Helen Peters, Midnight Feasts: Tasty poems chosen by A.F. Harold.
Chapter books for older readers – your child is likely to love books with pictures well into primary school but you can challenge their reading by introducing chapters: The Wizards of Once by Cressida Cowell, Sam Wu is Not Afraid of Ghosts by Katie and Kevin Tsang, Charlotte's Web by E.B. White, I, Cosmo by Carlie Sorosiak.
Non- fiction books – your child can use these books for information or inspiration if they don't want to get into a novel: The Street Beneath My Feet by Charlotte Guillian, Can I Eat That? By Joshua David Stein, Space Kids by Steve Parker, A Really Short History of Nearly Everything by Bill Bryson.
Although variety is best when it comes to your child's reading, the books on your child's bookshelf should be the ones that they want to read. There's no point decorating the shelves like a birthday cake unless you know your child will enjoy and read each and every one.
If you do want to branch out and broaden your child's mind and taste, then you could introduce some of these titles. There's no harm in a little window shopping, is there?