In discussions with parents, I've come to understand audiobooks as a bit of a marmite topic. Some have them couldn't live without them others feel they don't count as reading at all.
As a teacher and auntie to some scrumptious nieces and nephew, I can categorically say the latter is not true.
I flipping love an audiobook. As a fully grown woman, there's nothing I enjoy more than being read to. Whether it's a fascination non-fiction book or getting lost in the twists and tales of a story. It's calming and allows our minds to be swept away to another place without any of the work!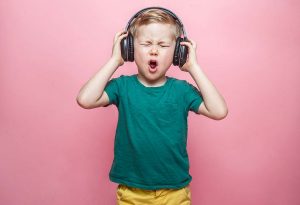 How does listening count as 'real' reading?
 When you listen to a story, just like reading one, you need to use your imagination. You're required to visualise the smells, see the colours and feel the emotions. All of this engages your child's comprehension skills as they're making connections, asking questions and making predictions.
It would be a real disservice to audiobooks to dismiss them entirely because children aren't reading with their eyes. It's so much more than that.
When can I use them at home?
Bedtime –
This is one of the most popular formats amongst my nieces and nephews. I'm aware bedtime story routines are sacred in many households. But if your child is a bit older or perhaps you simply need a back-up because it's been one of those days, this is a great way to ensure they still get that story and you're not left with any guilt. You could set a timer for 10-15 minutes (however long you anticipate it will take for them to drift off) and they can enjoy a brilliant story and there's no effort required from you!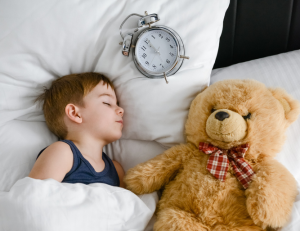 During quiet time –
I know many parents are trying to incorporate a 'screen-free hour' or afternoon into their days now. This time could be filled with drawing, build, painting, puzzles, crafts and in the background, you could play an audiobook. They get to practice their listening skills and develop their vocabulary.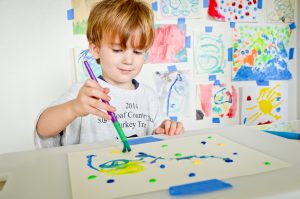 To introduce new and trickier books –
if there's a series of books that your child is keen to read but you're not sure they're quite there yet, audiobooks are a lovely bridge towards accessing them. This way your child can enjoy the story and they won't knock their confidence and be put off the series entirely.
In the car or on long journeys –
it can be hard to find a station or music that all the family can agree on. Audiobooks are a brilliant compromise. If you choose one that's 'family friendly' such as Harry Potter or a David Walliams, the whole family can enjoy the benefits.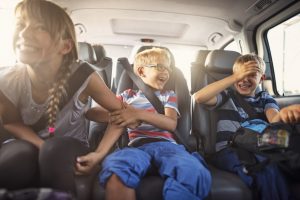 In busy or noisy places –
this is especially great if your child has sensory issues or perhaps doesn't like loud noises. Lots of my students have wireless headphones which are connected to an audiobook when they're out in a restaurant, playground or shopping centre. It's very calming and relaxing and will make for a happier experience all round.
If your child is a 'reluctant reader' –
quite often as your child gets older, they're assigned 'reading' from their school. If your child struggles to have the motivation to do this, ask their teacher if it would be okay to listen to an audiobook as an alternative. You could have the actual book too so they can follow along. This way your child won't feel under pressure, can enjoy the story and also hear how words and fluency should sound!
How do I access audiobooks?
Audible offers a 30-day free trial which is great if you're not sure you want to commit to a full service!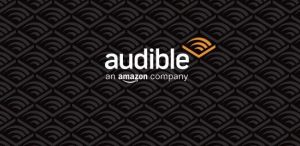 What would my child like?
Matilda by Roald Dahl (narrated by Kate Winslet) –
A much loved story about a magically gifted girl, Matilda Wormwood. Her horrible parents send her to school with a wicked headmistress 'the Trunchbull'. However, Matilda meets some lovely friends and the wonderful Miss Honey and things start to change…
Harry Potter and the Philosopher's Stone by J.K. Rowling (narrated by Stephen Fry) –
No one reads Harry Potter aloud better than the beloved Stephen Fry. We're first introduced to the dastardly Dursleys who begrudge their nephew Harry Potter being left on their doorstep. They're convinced he's up to no good and want to do everything to avoid the dreaded Hogwarts.
The Jungle Book: The Mowgli Stories by Rudyard Kipling (narrated by Bill Bailey, Richard E. Grant, Colin Salmon, Tim McInnerny, Bernard Cribbins, Celia Imrie, Martin Shaw) –
This award-winning adaptation features an all-star cast that kids and adults alike will appreciate, need I say any more?
Zog by Julia Donaldson (narrated by Imelda Staunton) –
Donaldson is a household name and almost a national treasure after the great success of the Gruffalo. If you know a child who enjoyed this year's animated adaptation of Zog, why not introduce them to Julia Donaldson's original?
How to Train Your Dragon by Cressida Cowell (narrated by David Tennant) –
The story of Hiccup Horrendous Haddock III (otherwise known as Hiccup), the weedy and inexperienced young Viking who defies all odds to become a respected dragon-trainer and 'The Dragon Whisperer', with just a little help from his secret pet dragon…