Just like that, here we (some of us anyway) are at half term holidays. I have mentioned before how much I love my job. I consider it a great pleasure and privilege. And I definitely do not want to appear ungrateful or like I am moaning. But, blimey, am I glad it's half term! After having many conversations with my colleagues, I know we are definitely breathing a sigh of relief for a little break. For many parents however I know they're experiencing very different emotions. For the next week (or maybe more) it's all engines go! Let the endless snacking and staying up past bedtime begin! Don't panic, because Readingmate is here to help, we have some great half term reading tips for you.
Encouraging positive half term reading habits
Regardless of how you plan on spending the holidays, one of the best and easiest ways (in my opinion) to keep your child in a healthy routine is to try to fit in a little reading every day. Whether it's bedtime, breakfast or an afternoon story. Reading is one of those magical things that can quite literally come with you anywhere.
Research suggests that there's regularly reading stories or novels outside of school has a marked and positive impact on reading attainment overall (PIRLS, 2006; PISA, 2009).
So, how can you possibly juggle day trips, visiting relatives, housework and maybe even your own job whilst keeping your child(ren) reading? In an ideal world, little Gregory will happily skip off bed with a book, no questions (or demands for an iPad) asked. You and I both know this is practically utopian idea.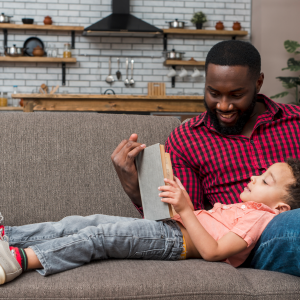 Teacher approved half term reading tips
Here are some of my half term reading tips. Use them to continue to support and encourage your child's reading during the school break:
Give your child space to read
Don't hover over them or force them to read to you. If they just want to sit and explore their books on their own, let them. They're still engaging and reading plus it gives you time to drink that coffee whilst it's hot!
Let them choose what they're reading
They are on holiday after all, if you let them choose what it is they read then they're more likely to want to do it. They're morelikely to develop independent reading skills this way too.
Let them read to younger siblings
If your child is reluctant to read to you, why not suggest they 'help' you and read to siblings. This way, they feel like they have some responsibility and it won't feel like a chore. In fact, they could end up feeling more confident and very proud of themselves!
Ask their teacher if there's any reading challenges for your child to complete
Having set my own students reading challenges for the half term break, I know that every teacher will be wanting to maintain all of your child's learning and hard work they have put in over the past 7 weeks. We know that incentives and rewards really drive children's motivation (which is why we have built them into the Readingmate app). You can use this as a little boost to get them to pick up a book instead of the games console. Moreover, if you mention that it's a challenge set by the teacher, more than likely they will be driven to do it for the credit they will get when they return to school.
Introduce a new genre or style of reading (comics, magazines, blogs etc.)
After a full half term of school, the last thing your child's going to read is a Biff and Chip book. As a special 'treat' you could take them to your local estate agent, library, food shop or even book store to get them to choose something that they have always wanted to read but isn't seen as 'bookish' enough. There's such a huge array of choices for children now. Reading doesn't have to be conventional or boring!
Follow my half term reading tips to ensure your child is refreshed when term time starts again
As parents, if you keep your child stimulated and their mind active over the holidays, they're more likely to go back to school relaxed, refreshed and ready for the new term ahead.
I would like to add (from a teacher's point of view) that… Whilst maintaining a lively and consistent learning routine is important, so is having fun! Whether it's playing, climbing trees, getting muddy, cooking, watching TV, going for walks at the beach and spending time as a family.
The most impactful learning does not happen at a desk, rather it happens by doing. Being outdoors, hands-on and letting children explore, create and experience in their own way and in their own time.