Now more than ever, reading is an excellent way to help your children escape from the worries of the world.

And with the little extra time during school holidays, reading is it's a great excuse to hibernate with a hot chocolate (not that you need one at this time of year).
The benefits of reading are well known and whilst Christmas is a very special time of year, it's also exceptionally busy and can feel a little overwhelming for your little ones. Reading can be a great mood regulator and a superb way to relax and unwind after a busy day of festivities.
Regularly reading to a child for the love of it provides a connection between parent and child that's unrivalled. Families who enjoy reading together have more opportunities for discussion, developing empathy and attachment.
Reading to your child is one of the greatest gifts you could give to your child this Christmas.
If you've got a spare 10 minutes, these tips are guaranteed to help you and your child to build the habit of a lifetime.
Read what your children are reading – this is great if you've got older children that are already reading chapter books. You can have conversations or even form a family book club!
Create a reading nook – this time of year is great for getting cosy under a blanket and enjoying a good story. Find a distraction free part of the house and fill it with blankets, cushions, and books. Try not to force your children to spend time there, just let them naturally gravitate towards it.
Range of reading materials – to keep it fresh and interesting, have a variety of books, magazines, newspapers, comic books on offer for your children to enjoy.
Sign up to your local library – if you're lucky enough to have one in your community, get yourself down there. They're a wonderful resource and I can guarantee your children will love some of the activities they put on too!
Read before bed – this is one of the easiest ways to get your child used to and in the habit of reading. Also, reading aloud to your child is a great opportunity for them to understand how words are formed and what reading should look and sound like.
Non-book-based activities – reassure your child that reading does not always have to be a formal, sit-down activity. It can be listening to sounds in your environment, reading ingredients on a recipe, writing a shopping list, making cards, or creating a puppet show.
One of the most important and powerful things parents can do for their child is read with and to them from as early as possible.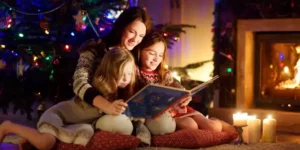 Never assume that because your child is reading independently, they'll no longer want to hear you read to them. In fact, many students I've taught in high school (I'm talking 16-year-olds) still love listening to a story. To this day I still feel it's a privilege and an honour to read with my students.
Surrounding your child with opportunities to read and listen to stories is hugely powerful and the impact it has on their speech, language and communication skills really is profound.
So why not use the most wonderful time of the year to get curled up with a Christmas story and get your 2022 off to a flying start!